California Gap Analysis Project: Regional Datasets
This page lists the regional spatial datasets available online from the California Gap Analysis Project. The land-cover data layer was compiled and used in the actual analysis, but the Thematic Mapper served as base map information. The TM imagery is provided in compressed files for both Unix and winzip compression formats. The regions are based on the physiographic regions described for the Jepson flora of California.

Click the META icons to view or download the data documentation.


Click the EXPORT icons with the RIGHT mouse button and select "Save Link As" to download ARC/INFO export files or image files.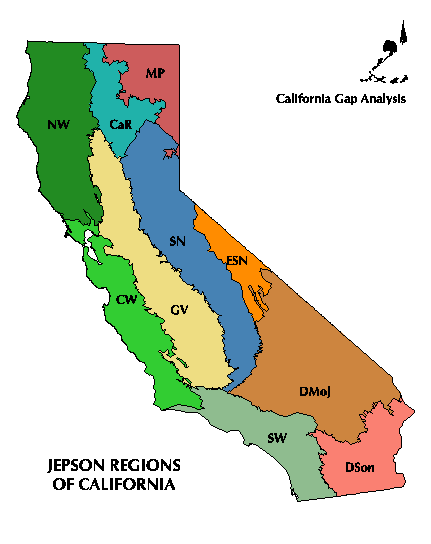 | | | | | |
| --- | --- | --- | --- | --- |
| | Metadata | | | |
| | | | | |
| NW | Northwestern California | | | |
| CaR | Cascade Ranges | | | |
| MP | Modoc Plateau | | | |
| CW | Central Western California | | | |
| GV | Great Central Valley | | | |
| SN | Sierra Nevada | | | |
| ESN | East of the Sierra Nevada | | | |
| SW | Southwestern California | | | |
| DMoj | Mojave Desert | | | |
| DSon | Sonoran Desert | | | |