This page provides access to the hypertext version of the final report of the California Gap Analysis Project. The report describes the methods of mapping and analysis; it describes the patterns of land ownership and management, vegetation, and vertebrate species distributions; and it rates the vulnerability of plant communities.
To read a particular chapter, click on its title in the Table of Contents below.
Or you can download the report as a Windows help file to get it all in a single file. Underneath the Table of Contents is additional information about ordering a CD-ROM that contains the report and an interactive atlas of the CA-GAP database.
To cite this report:
Davis, F. W., D. M. Stoms, A. D. Hollander, K. A. Thomas, P. A. Stine, D. Odion, M. I. Borchert, J. H. Thorne, M. V. Gray, R. E. Walker, K. Warner, and J. Graae. 1998. The California Gap Analysis Project--Final Report. University of California, Santa Barbara, CA. [http://legacy.biogeog.ucsb.edu/projects/gap/gap_rep.html]
---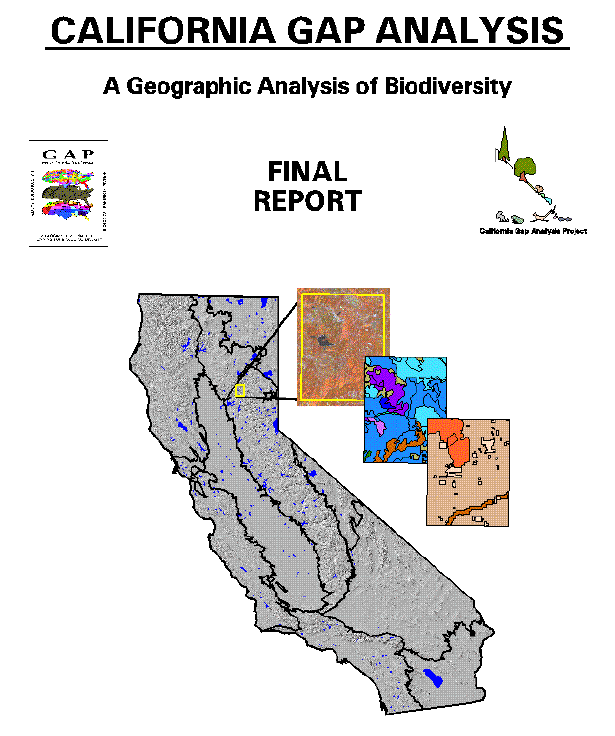 Table of Contents
2. Land Cover Classification and Mapping
3. Predicted Animal Distributions and Species Richness
4. Land Stewardship and Management
5. Stewardship and Management Status of Plant Communities and Wildlife Habitat Types
6. Stewardship and Management Status of Predicted Species Distributions
7. Management Priorities for Plant Communities
8. Management Implications and Future Directions
Appendices, including regional reports